18 March 2012 – To Saint George, Seven of Us Go!
Posted By Theodore Ko, Mar 21, 2012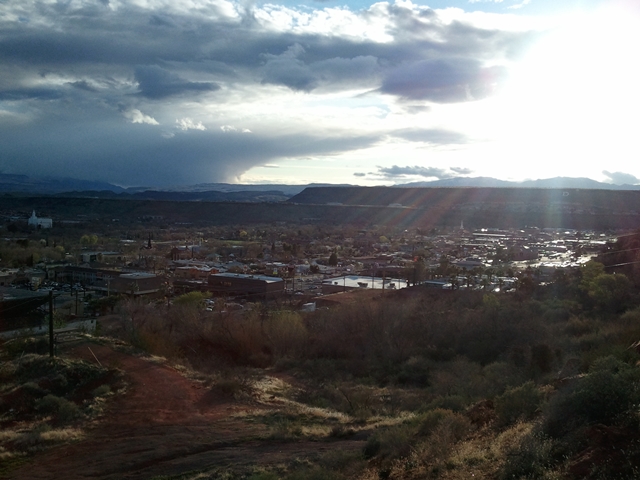 With a snow storm hitting Arizona, the Window Rock Group was left to contemplate the car trip plans. Saint George was off to get things started.

Saint George, Utah, is about a 2 hour drive from Las Vegas, traveling through Arizona for some of the trip. After traveling through an impressive canyon pass, we made it to Saint George in one piece. Saint George is a growing city, with one of the highest rates of economic growth in the country. Saint George is a historical city, with a Mormon temple and Tabernacle as some of the must-see sites. The city is also home to a state college and Dixie is affectionately references throughout. On top of a hill to the West is a large white "D," which is lit in bright lights at night. Lastly, Saint George is nestled amongst the red hills and plateaus of Utah, with Pioneer State Park right next door and vistas of distant mountains in the stance, dotted by new and old developments.

One new discovery: many stores and restaurants were closed early because it was Sunday. On a journey to find dinner, one establishment was closing early due to slow business. Eventually, we found our way to a local delight: The Original Wingers, featuring their addictive special sauce. The staff was kind enough to stay past closing time and were very friendly. If anything is to be said about Saint George, it is that the people here are very welcoming and neighborly.