"They Picked Up and Left in the Middle of the Night..."
Posted By Ji-Hyun, Mar 24, 2009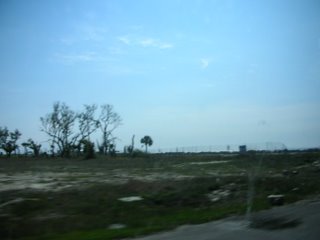 Driving through East St. Louis ("ESL") was so similar to the hurricane zone in Mississippi that it was sad. There was no hurricane in ESL but urban blight has left the entire city in same type of ruin as Mississippi and the community is clearly in crisis. ESL is the second disaster zone I have been to, and the nature of the poverty is shockingly different from the poverty we have in California. There is so much land and so many abandoned buildings. Everyone we have worked with in ESL talks to us about what ESL used to be. Before everyone picked up and left. In the non-segregated country of freedom we live in, ESL has a population that is 97.7% black.

Paulyn, the amazing founder of Continuum of Life Care Center, drove us around ESL to hand out sack lunches to homeless people. We asked about the numerous abandoned, massive, industrial and commercial buildings that we saw. She told us it was like they picked up and left in the middle of the night. They left equipment in the buildings and abandoned ship. Now homeless people use these large, multi-story, asbestos-ridden, and dangerous buildings to find refuge from the cold. Enormous companies like Pfizer built massive manufacturing centers in ESL just to abandon them in the 90s. These deteriorating brick buildings are everywhere (photo below).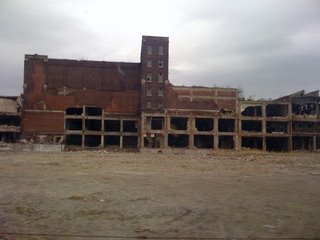 Paulyn showed us today that the poverty has a face. Poverty has a name, a story, a husband, a wife, and a disease. While we drove around ESL, homeless people waved down her van. They all knew and loved her and she caught up with them like family. Paulyn knows everyone's story. One person I had the chance to meet was Randy. Randy was sleeping under a mound of blankets next to a building. When Paulyn coaxed him out, he got up and danced and hugged her. He was delighted to meet five out-of-place California girls. As we drove away, scrap metal and foam flew off the building and showered around him. Later we saw these scraps from the building bundled up in bags on the street. Randy cleans them up and hopes the city will come pick them up. This is something he does incessantly, in an effort to clean up the littered city.

I am so happy to be in a part of HALO. I've learned so many things about each member of our group this week. We are learning so much together, and I know the impact ESL has had on us will be heard all around King Hall, and with our family and friends. Meeting the face of poverty is extremely important to my goal of becoming a public defender. ESL is symptomatic of the broken system. Instead of improving schools, social programs, and communities, the state spends millions on needless concrete public works projects and the police round up homeless people and slap them with misdemeanors. They have no addresses and do not receive notice of their court dates and their failure to appears turn into warrants for their arrest. People have to commit crimes to get by, and the city tries to assert that living on the street in itself is a crime. This cycle of poverty clearly exists in ESL and around the country and even though some kids from California can't solve the problem in six days we can hope that the system will improve.