A Forgotten City
Posted By Kara, Mar 24, 2009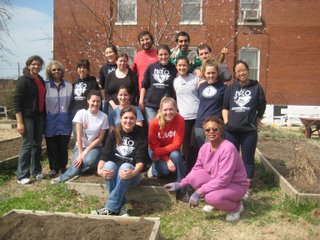 Greetings from St. Louis!

This is my first time in St. Louis and although I read up on both East St. Louis and St. Louis and heard stories from HALO members who grew up or lived here, I did not really know what to expect. We arrived Saturday evening and got settled in. On Sunday we went to Mayberry Community Garden and helped local St. Louisans clear out the overgrown weeds that had accumulated over the winter. The garden has been used for years to provide cheaper vegetables to members of the community and bring people together. My favorite part was working with members of the community. I worked on a plot with one woman who was born and raised in St. Louis and described to me how the city has changed over the course of her life. Although she loves St. Louis, she was discouraged by how the crime rate has increased recently. She expressed frustration with the police force's lack of commitment to enforcing laws and protecting people in communities like hers. However, she also made it clear that St. Louis is where her heart lies and that things like the crazy weather (hail the size of baseballs one minute, clear skies and sun the next) are the reason she will never leave. It was a great experience to be working outside amongst St. Louisans and contributing in a tangible way.

After we worked at the garden we decided to explore downtown St. Louis. We first went to the St. Louis Old Courthouse where the Dred Scott case was litigated. Given that we recently read and discussed the Dred Scott decision in Constitutional Law, it was really interesting to be there. We then rode to the top of the St. Louis Gateway Arch. At the top you could see all of St. Louis and East St. Louis and the stark contrast between the two cities. On one side you saw parks, skyscrapers, a baseball and football stadium, the courthouse and a plethora of cars, buildings and people. On the other you saw factories with pollutants pouring out into the air and river, abandoned and boarded buildings and homes scattered throughout. What struck me the most was how clear the discrepancy between the two cities was. Before coming I heard that East St. Louis was a forgotten city. Even within St. Louis, the drastic problems facing East St. Louis are rarely reported in the news or discussed among people. The common reaction to East St. Louis that I have heard is, just don't go there. Yet standing on top of the Arch, it seemed that the inequality plaguing East St. Louis was too obvious to ignore. Separated only by a river, the two cities looked like two different worlds.

The following day we crossed the river to East St. Louis for the first time to meet with attorneys at Land of Lincoln. Land of Lincoln is one of the few legal aid organizations in East St. Louis and therefore, is faced with demands that are impossible to meet. However, Land of Lincoln has provided invaluable assistance to the people of East St. Louis in areas of family law, elderly law, education and housing. I was extremely impressed by their knowledge and understanding of the issues facing East St. Louis and their dedication to addressing them. Their commitment and legal work has lead to court decisions that have made a large impact on the lives of those living in East St. Louis. For instance, one decision forced HUD to pour resources into improving housing developments that were far below safety and health standards. Another forced the city to clean a lake that had been so heavily polluted with sewage that children's hair started falling out as a result of being near the lake.

While driving around East St. Louis you immediately get a sense for how impoverished the city is. Most of the homes had windows boarded up, a deck or roof falling through, holes in the walls or wood rotting away. Most of the local stores seemed to be out of business. However, it is not an abandoned ghost town. These homes had cars out front, indicating that a family lived there. People were walking the sidewalks and children were outside of the schools. It was shocking and saddening yet made me glad that we chose East St. Louis for our HALO trip this year.

Later we went to St. Vincent de Paul where we were asked to help them draft a commercial lease for their new building. St. Vincent provides assistance to a range of people in need. They intend to rent out rooms in the new building in order to raise more money for their organization and provide more services. We conducted research on commercial leases for non-profits at the Washington University Law library and submitted a draft of the lease today.

Anyways, I am off to write a lesson plan with our group for teaching torts to a high school class tomorrow! I think it will be a really fun experience. I have really enjoyed being in both St. Louis and East St. Louis so far. It has been a very fulfilling and fun trip!