Forgotten
Posted By Finella Murphy, Mar 24, 2008
Driving through Mississippi is like entering a twilight zone, a post-apocalyptic world. The trees are bent and dead, bark torn off, leafless. The roadsides are barren and overgrown. On one side, white sandy beaches, and the other, vacant emptiness. Until you pass the half-blown out Outback sign. Or maybe the stairs leading nowhere. Or the lone toilet. Or the overgrown swimming pool. And then, the eerie row of rebuilt mansions, or brand new casinos.

Two and a half years off, this is deplorable. Even driving on the highway out of New Orleans to Gulfport was incredible – as far as the eyes can see, a wasteland of dilapidated houses. An abandoned hospital, tent city, the juxtaposition of a beautiful blue building beside a pile of rubble… now, two and a half years later.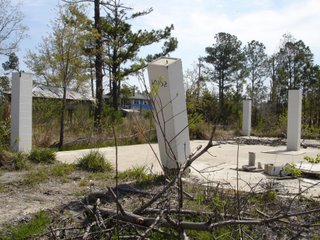 Mississippi was hit differently. While New Orleans flooded and stewed, Mississippi was mowed clean by wind and water and a storm surge of Biblical proportions. Whole towns were washed out. Pass Christian, Mississippi, for example, was completely wiped out.

Restoration Point is a non profit that works in communities like Pass Christian and the neighboring Bay St. Louis, which were wiped clean by Katrina, by rebuilding homes for low income residents. Behind each empty lot and barren foundation is a story. Half of us painted a house in Bay St. Louis. The surrounding neighborhood was a mixed bag – some houses were completely rebuilt, while others had been abandoned. In the neighboring lot, there was nothing but a few concrete stilts sticking out of the ground – all there was to show that there had once been a house there.

Downtown Gulfport is a shadow. It's impossible to imagine it as a resort town – the downtown is full of boarded up facades, crumbling buildings, and for-sale signs.

Who really is recovering, two and a half years later? Why are the casinos rebuilt, but not the homes? Where do you live, without a home? In a tent city? In a formaldehyde drenched FEMA trailer? Do you leave your family home?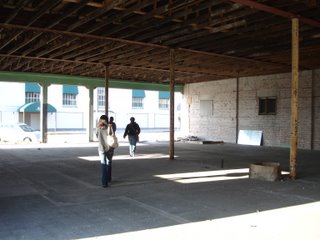 Two and a half years later, this should not be an issue. The fact that there is still rubble on the ground, homes unbuilt, people homeless and ill and falling prey to contractor fraud and price gouging – people should still be talking about it. There are great disparities in the rebuilding process – drawn along racial and socio-economic lines.

I asked a close friend of mine what he thought of my photos of the ruins of Katrina. I asked, "Were you surprised?" In response, he told me, "I hadn't thought about it."

We, as a nation, must think about it. Why are the casinos back, but not the homes, especially the homes of the poor, the minorities? Why have we allowed this region to remain so thoroughly devastated? Why have we forgotten?

This week, we will be working at the Mississippi Center for Justice – and hopefully our work, in some small way, will make some impact on the lives of those left behind and forgotten in the wake of Katrina.