Finding a Place to Live is Not Easy (continued...)
Posted By Nina Sachdev, Mar 20, 2007
Today we went to Jefferson Parish to collect supporting documents and gather more information from the people living in trailers that we talked to yesterday.

At first Jefferson Parish looks like most suburbs. Starbucks, a massive PetSmart, Office Max, and other stores line the main road. We drove just off this road onto semi-paved, pot-hole filled roads to a mix of mostly run-down homes, newly built homes and trailers. The trailers were right next to the houses, none of which could be seen from the main road. I wondered why the Parish would consider the trailers a "blight" problem when only the few people living around the trailers, who were family or friends of people living in the trailers, could see them.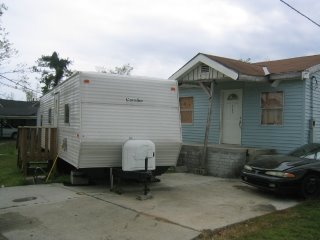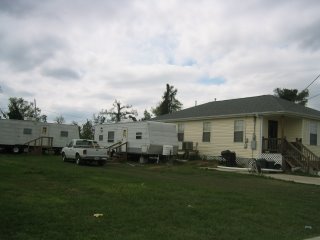 One person we are helping has been living in a Jefferson Parish for 51 years. His parents, aunts, uncles, and other relatives were buried in this cemetery near his home. But right now his is living in a FEMA trailer and still needs more time to rebuild his home. Hopefully the Parish will give him more time, otherwise he does not know where he would live.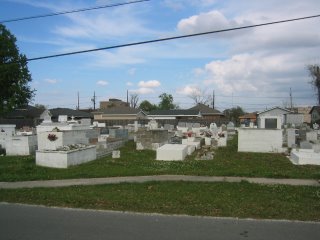 Below is a picture of us talking to someone who was suppose to have received money from the federal government by now based on the sales tax of certain items in her home. When she called the government agency, they told her she owed them money for a loan she never took out!